AbsorbAid Platinum 120 Digestive Enzyme & Probiotic Blend
$61.99
AbsorbAid Platinum Formula:
Platinum formula has a total of 12 different active enzymes plus 2 vital heat-stable probiotics that complement & help protect the immune system – with this formula there's nothing you can't eat
The platinum formula is the solution for individuals with a vigorous, active lifestyle, a physically demanding job, individuals who eat more animal proteins and those who are recovering from an illness
Its super digestive blend breaks down all food groups and maximizes nutrient absorption from consumed food
It also helps alleviate digestive disturbances such as gas, bloating and acid indigestion
Active enzymes are necessary for things like tissue repair & metabolism, and they help to protect us by controlling certain responses relating to food allergies, high cholesterol, psoriasis, tumors, and may other problems.
As we age enzyme production drops off rapidly (usually starting after age 20) in fact by the time we're 50, we've lost more than half – this leads to problems with digestion, energy, food intolerance & other health problems. Like it or not, every day, our enzyme levels are dropping. 
We need to supplement the enzymes we've lost & get back to eating what we want & feeling good!
Description
AbsorbAid Platinum 120 Digestive Enzyme & Probiotic Blend – 120 Vegetarian Capsules – supercharge your digestion for a happier stomach!
About AbsorbAid Digestive Enzymes:
AbsorbAid is often recommended by medical doctors & industry experts, featured on tv commercials, national radio shows & also in the Journal of the American College of Nutrition
Our proprietary blend and stabilization process make it safe and effective in a wide pH range so it works well for more individuals
Has been clinically tested and scientifically proven to increase vital nutrient absorption by up to 71%; tested & proven by prestigious labs such as Roche and Mayo Clinic Laboratories
 Why choose AbsorbAid over others?
With so many supplement companies to choose from how do you know which one will have integrity with the product & ensure it's effectiveness & quality? And how do you know if the formula is right or if they put enough of each ingredient in the capsule?
We have the answers to those important questions, & more importantly we CAN PROVE IT! Unlike 99% of other enzyme companies we've had our Enzyme formulas tested by renowned laboratories, the Mayo Clinic & Roche Labs. And we've also been featured in the Journal of the American College of Nutrition, & our products have even been tested & studied involving patients & staff in the Chicago Medical School, Thorek Hospital & Medical Center in Chicago, IL. And, we have very strict quality control standards on ingredient selection and our manufacturing plant (here in US) has been certified as a GMP (Good Manufacturing Practice) company.
If you're looking to replace those critical enzymes that you've lost & you don't want to waste your money on an ineffective, unproven formula, then AbsorbAid is the obvious choice, as it's the only one that has been scientifically proven to increase the absorption of vital nutrients by up to 71%. And if, for whatever reason, you're not 100% satisfied we'll refund your money no questions asked.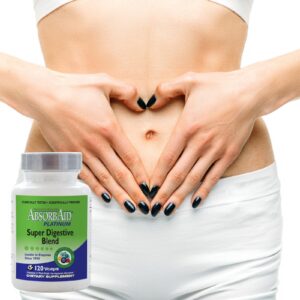 Can AbsorbAid Platinum help me support weight management along with a healthy diet?
Yes. AbsorbAid Platinum will help support feeling full. AbsorbAid Platinum is a natural way to help curb your appetite & enzymes will help you process foods more efficiently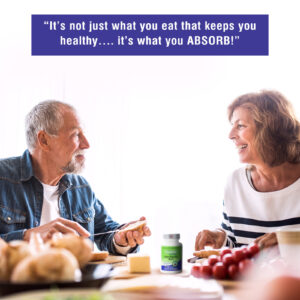 Will AbsorbAid Platinum work for people in any age group? 
Yes, AbsorbAid Platinum does not discriminate due to age. In fact, one could argue those people who are of senior citizen age need digestive enzyme support more than any others (see statistics above about how we lose enzymes as we age)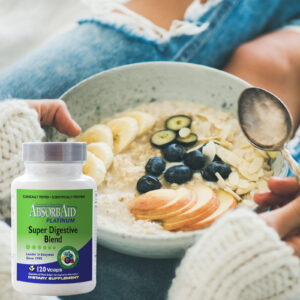 Can AbsorbAid Platinum help me with my gas, bloating & belching after eating certain foods?
Most likely, AbsorbAid Platinum is rich in a full spectrum of enzymes that help support the body's break down offending particles such as beans, the outer covering of fruits vegetables, dairy products, carbohydrates and more! Taking AbsorbAid Platinum just prior to eating and one or two capsules during a meal, if the meal is heavier, to support more of what the body needs to digest those foods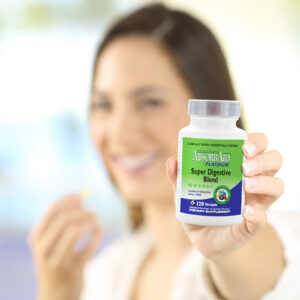 Will I notice more energy if my food is being broken down into absorbable molecules?
Yes, this is often one of the first things people notice. When your body has an adequate supply of nutrients from the foods you eat you will naturally feel a surge of energy due to the elevated amount of nutrients flowing into your bloodstream.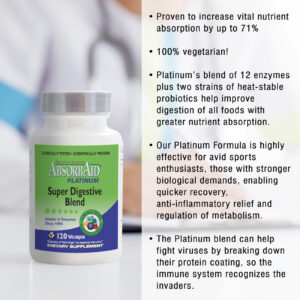 Do I need to check with my Dr. before I start to use AbsorbAid?
If you are being treated for any serious medical condition you should consult your physician before taking AbsorbAid, but keep in mind, that AbsorbAid only contains the enzymes that are found in your food; that is if you ate raw or lightly cooked food. These enzymes are totally natural and will assist your bodies' own process of breaking down the food you eat into easily absorbable nutrients. If you feel comfortable eating large quantities of raw fruits and vegetables without consulting your doctor, you should feel comfortable using AbsorbAid.
(FDA Disclaimer: These statements have not been evaluated by the Food and Drug Administration. This product is not intended to diagnose, treat, cure, or prevent any disease).