Kolsore by Kolorex – Rapid recovery from lip blistering and outbreaks
$19.99
A world-first innovation that is packed full of nature's best and most potent ingredients for lip health.
Triple action – 1. Inhibits  2. Conditions  3. Heals
Kolsore is proven to reduce lip blistering and the duration and pain associated with lip outbreaks.
The best time to start treatment is when that tingling sensation first happens, before any visible sign of a lip outbreak appears. If you miss it, don't worry, it's not too late to treat.
Kolsore contains a triple dose of scientifically proven active ingredients to fight the source of lip outbreaks and provide maximum defense:
Active ingredients include:   Kolorex® Horopito  |  Lysine  |  Propolis Extract  |  And More…
Description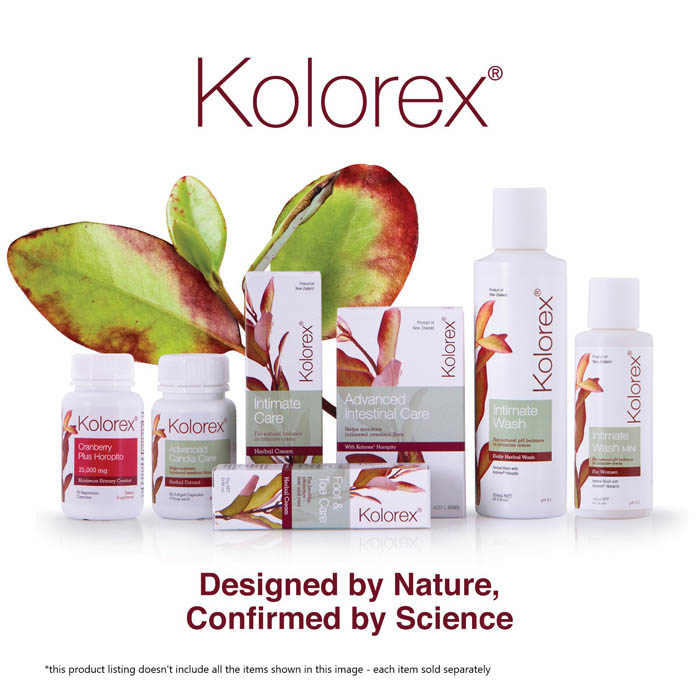 A world-first innovation that is packed full of nature's best and most potent ingredients for lip health.
KOLSORE® is designed to support rapid recovery through all stages of a lip outbreak. This unique triple action formula is the result of over five years research and development. It is the only lip product on the market with patented Kolorex Horopito extract – proven effective against the Herpes virus.
The journey from idea to product started when researchers at the University of Otago found that Kolorex Horopito extract kills the herpes virus in test tubes. After securing a patent on this discovery, we undertook to test KOLSORE with groups of people who suffer lip outbreaks.
.
85% reported that the ointment either completely stopped or reduced blistering
.
81% reported that using the ointment made the duration of their outbreak either much shorter or slightly shorter than previous cold sores
.
81% reported that the ointment was more effective than the best other treatment they had tried
.
57% felt that the ointment helped heal the scab that formed after the cold sore outbreak
What makes Kolsore so effective?
Kolsore's unique formula is designed to support rapid recovery through ALL stages of a lip outbreak with its unique TRIPLE ACTION:
Action 1 – Inhibits
Inhibition of the Herpes Virus through stages 1-4
Kolsore® contains 3 scientifically studied natural ingredients that have been shown to reduce the herpes virus, namely Horopito extract, propolis extract and lysine.
Kolorex® Horopito Extract: We commissioned series of experiments which showed that Horopito leaf extract containing the active ingredient polygodial, is effective at killing Herpes Simplex-1 (HSV-1) virus in vitro. The experiments were conducted by researchers at the University of Otago and showed impressive results when compared with the market leading pharmaceutical. See our Scientific Studies [hyperlinked] page for more details.
Propolis Extract: Propolis has been recognized for its healing properties for centuries. Propolis is a natural substance collected by honeybees alongside nectar and pollen, which the bees use to sanitize and sterilize their hives and to keep them free of viruses and infections. We source our propolis from New Zealand to ensure consistent high quality and purity. Propolis is backed by many high quality clinical studies showing its effectiveness for lip outbreaks. See our Scientific Studies [hyperlinked] page for more details.
Lysine: A well-researched amino acid that suppresses the activity of arginine (another amino acid), which is thought to be a common trigger of lip outbreaks. See our Scientific Studies [hyperlinked] page for more details.
Action 2 – Conditions & Soothes
Conditions & soothes the lips through stages 1-5
Lanolin is a skin emollient, which means it helps moisturize and condition the lips. Combined with aloe vera, Kolsore® is designed to soothe and moisturize the lips through the entire lip outbreak. This helps reduce pain by keeping the skin supple in the affected area and can reduce the urge to scratch or pick at the lip outbreak and surrounding skin, therefore helping to speed healing time and reducing discomfort.
Action 3 – Heals
Supports wound healing through stages 3-5
Kolsore® contains a high concentration of pharmaceutical grade, purified lanolin which creates a protective barrier around the affected area, keeping the area moisturized – a critical factor in accelerating healing. Keeping the moisture in is known as 'semi occlusive' wound healing, resulting in faster re-epithelialization and reduced inflammation at the site of the wound – critical factors that promote better and faster healing in skin wounds. Kolsore® also contains vitamin E which is known for its skin-healing properties.
General Information
Ingredients:
Lanolin
Lysine
Aqua (water)
Beeswax
Prunus Amygdalus Dulcis (Sweet Almond) Oil
Melaleuca Alternifolia (Tea Tree) Leaf Oil
Ricinus Communis (Caster) Seed Oil
Copernicia Cerifera (Carnauba) Wax
Hydrogenated Caster Oil
Propolis Extract
Kolorex Pseudowintera Colorata (Horopito) Leaf Extract
Tocopherol (Vitamin E)
Aloe Barbadensis (Aloe Vera) Leaf Juice
Helianthus Annuus (Sunflower) Seed Oil
*Limonene (Component of Natural Essential Oil)
Recommended Use:
Apply to the affected area as needed
Precautions:
May cause transient sensation of warmth upon application
Avoid contact with eyes
Do not use if you have known sensitivity to any of the ingredients
Propolis may cause severe allergic reactions in some individuals
If symptoms persist, see your healthcare professional
(FDA Disclaimer: These statements have not been evaluated by the Food and Drug Administration. This product is not intended to diagnose, treat, cure, or prevent any disease).