AbsorbAid Original 100g Complete Digestive Enzyme Formula in Powder Form
$34.99
AbsorbAid Complete Digestive Enzyme Formula:
AbsorbAid relieves your symptoms within minutes by helping you digest your food faster & more effectively. Quicker digestion means that stomach acid has less time to back up and cause distress.
It is a unique, natural, plant-based enzyme. Unlike other enzymes, it is not destroyed by stomach acid. Enzymes need to survive in the stomach in order to get into the small intestine to be absorbed.
AbsorbAid is the vehicle that delivers nutrients to the blood. AbsorbAid increases absorption by up to 71%. What's the sense of eating well and taking supplements if your body isn't doing a good job of digestion and absorption?
As we age, our body's ability to produce digestive enzymes decreases. By the time we reach the age of 20, we lose 13% of our enzyme production every 10 years. That's why many people become lactose intolerant as they get older. We stop producing the enzyme lactase, which breaks down dairy products.
The ingredients in AbsorbAid can help digest ALL food groups including dairy, fat & proteins.
AbsorbAid is highly recommended by medical doctors, featured on national radio, TV commercials & has been clinically tested and scientifically proven to be safe and effective!
Description
May eliminate the symptoms of indigestion, heartburn and reflux naturally, through better digestion

Proven to increase vital nutrient absorption by 71%

100% vegetarian

Recommended by medical doctors, clinically tested, and scientifically proven
Nature's Sources' AbsorbAid Promotes Improved Digestion and Nutrient Absorption Since 1995!
All-natural enzymes break down all food groups and helps you get more out of consumed food
AbsorbAid Original award winning formula developed and manufactured by Nature's Sources, is an all-natural 100% plant enzyme blend designed to help the body digest all food groups, including dairy and fats and boost nutrient absorption by up to 71%! Expertly formulated to be stomach acid stable, AbsorbAid stays in the body providing lasting effects and improved digestion. Infused with five plant enzymes, AbsorbAid is a natural approach to stomach distress unlike antacids and acid blockers. Taken with every meal, AbsorbAid is the vehicle that delivers nutrients to the blood.
How do I take AbsorbAid and when should I use it?

AbsorbAid's main function is to help you digest your food, so you should take it with daily meals. One to two capsules, or ¼ to ½ teaspoon is the recommended amount to use at the beginning of each meal. There is no maximum dosage, so if you are eating a large meal, you may want to increase the amount you use

Why do I need to add AbsorbAid to my diet?

Many people have poor digestive systems, and lack the ability to absorb the nutrients from the food they eat or the supplements that they take. All foods have enzymes, however, cooking destroys them and makes your body use its limited supply. Enzyme production decreases as we age. Many health professionals attribute premature aging and disease to a diet that is deficient in digestive enzymes.

What kind of results will I see, and how long will it take to see these results?

In many cases you can see immediate relief from digestive disturbances. For better absorption of the nutrients in your food or supplements you may feel a difference within a few weeks to a few months. Being healthy should be viewed as a long-term goal, by ensuring that nutrients are absorbed into your body. It?s not what you eat that keeps you healthy, ?It?s what you Absorb.?

What makes AbsorbAid different from other enzyme products?
AbsorbAid is stomach acid stable and is active in the small intestine. Most nutrients are absorbed through the walls of the small intestine.
With so many supplement companies to choose from how do you know which one will have integrity with the product & ensure it's effectiveness & quality? And how do you know if the formula is right or if they put enough of each ingredient in the capsule?
We have the answers to those important questions, & more importantly we CAN PROVE IT! Unlike 99% of other enzyme companies we've had our Enzyme formulas tested by renowned laboratories, the Mayo Clinic & Roche Labs. And we've also been featured in the Journal of the American College of Nutrition, & our products have even been tested & studied involving patients & staff in the Chicago Medical School, Thorek Hospital & Medical Center in Chicago, IL. And, we have very strict quality control standards on ingredient selection and our manufacturing plant (here in US) has been certified as a GMP (Good Manufacturing Practice) company.
If you're looking to replace those critical enzymes that you've lost & you don't want to waste your money on an ineffective, unproven formula, then AbsorbAid is the obvious choice, as it's the only one that has been scientifically proven to increase the absorption of vital nutrients by up to 71%. And if, for whatever reason, you're not 100% satisfied we'll refund your money no questions asked.
Do I need to check with my Dr. before I start to use AbsorbAid?
If you are being treated for any serious medical condition you should consult your physician before taking AbsorbAid, but keep in mind, that AbsorbAid only contains the enzymes that are found in your food; that is if you ate raw or lightly cooked food. These enzymes are totally natural and will assist your bodies? own process of breaking down the food you eat into easily absorb-able nutrients. If you feel comfortable eating large quantities of raw fruits and vegetables without consulting your doctor, you should feel comfortable using AbsorbAid.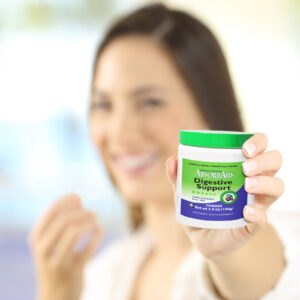 Is there a difference between taking the capsules and using the powder?
In many cases you can see immediate relief from digestive disturbances. Use the powder or open up the capsules in water. Using AbsorbAid this way will allow you to "wash" away the irritating food and acid while you are drinking the AbsorbAid with water. When you eat, you can use the powder in water or just swallow the capsules. They are equally effective for increasing absorption of nutrients.
(FDA Disclaimer: These statements have not been evaluated by the Food and Drug Administration. This product is not intended to diagnose, treat, cure, or prevent any disease).